We invite you to play chess at the FinChess!
In 2018, we held the first FinChess event. For three years, from the corporate tradition, it has become a major industry event where our colleagues, customers, partners play chess in a corporate tournament.
We form and maintain a community around the game and business, introduce people and companies. Let's tell you more about it.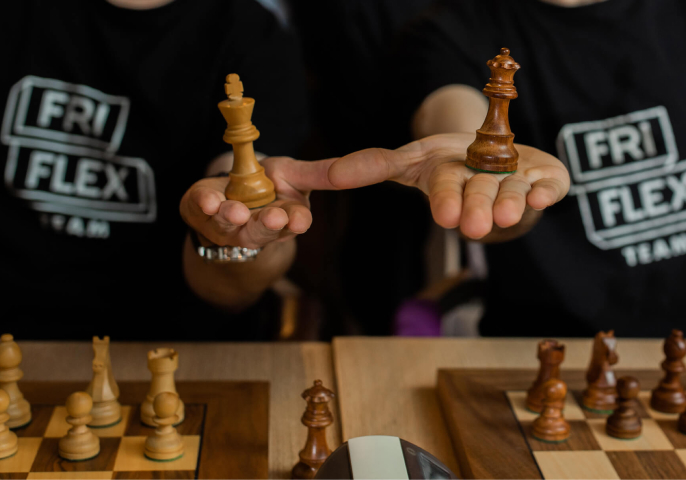 About the tournament
FinChess is the amateur tournament
The tournament FinChess takes place in the form of a team blitz tournament with time control for the game 5 + 2 (5 minutes + 2 seconds of addition after each move) for each player. One match game with such time control usually takes no more than 15 minutes.
According to the regulations, players with a rating above 2300 are not allowed in the team. The rating can be viewed on the FIDE website, it is formed on the basis of the games you played with the rating count. If you do not have an official rating at all, it does not matter to us.
Three people play in the team on the FinChess and one alternate player is allowed. He plays in games at the discretion of the team. Also, each team allows to bring with them two fans. If 3-4 people are not going to the company for some reason, you can write to us - we will offer the option to make a national team. For example, we already have teams of journalists and bloggers (business media journalists + chess bloggers), a team of investors and bankers (representatives of banks and investment companies).
FinChess grew out of the tradition of Friflex holding corporate tournaments in the company, playing chess after work. The mission of FinChess is to develop the financial and IT community through intellectual recreation. We introduce people, unite companies.
About the tournament
FinChess is a business community
A well-known fact - representatives of the financial community love chess. This game is a simulation of decision making with a limited capacity of 64 cells. We talked more about the connection between business and chess in this article.
There is little and more time for hobbies (chess) that people do - play in online tournaments on well-known platforms. But to sit behind the board and play in the team is completely different!
Bank's SMP team on FinChess

Friflex & Skolkovo Ventures
FinChess has a great format and a very friendly atmosphere. I really like that chess games are short, between them you can skip a pint of beer, share your opinion, discuss some useful things with colleagues in the fintech or banking sector.
I really enjoyed the event. It's cool to gather an entrepreneurial community for an interesting activity. Clubs of entrepreneurs, as a rule, are aimed at discussing work. And businessmen come to FinChess to have fun, play, switch - this is important for both business and personality. This is a very cool format: people come to relax, while they can make useful contacts, get acquainted. Community is one of the most important things in entrepreneurial history.
Members
Already with us on FinChess
About the tournament
Business program at FinChess
During the break between the game, we talk and invite interesting people to the microphone. At various FinChess, we discussed various things: venture capital with Altair Capital, how business can work with top media with Forbes, how chess helps in decision-making with an international grandmaster. About how to train and develop intelligence with an expert of the club What? Where? When? Boris Belozerov.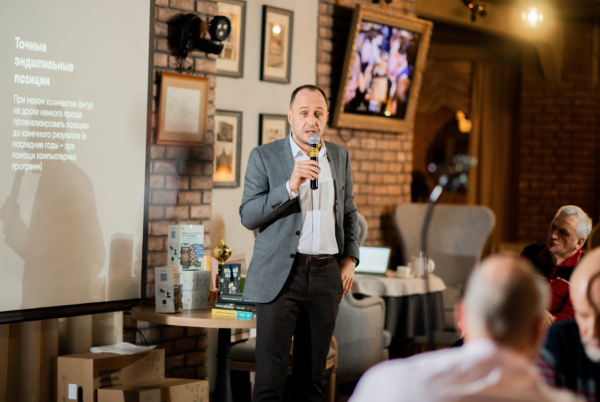 Evgeny Miroshnichenko, Grandmaster,
international commentator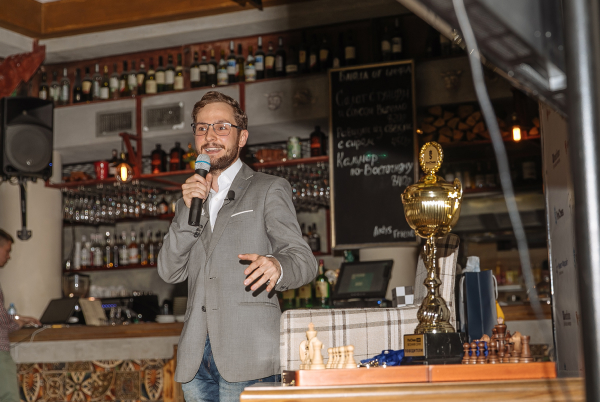 Boris Belozerov, an expert of the club What? Where? When?
You can find out about FinChess news and announcements of new events on FinChess social networks: Facebook, Telegram, YouTube